In most of the mechanical production systems used in heavy industry (Sugar, Cement, Steel, Mining …), Spherical roller bearings are used which are usually located in places that are difficult to access. When some of these bearings show symptoms of malfunction and we need to check and replace them with another unit, we are forced to also disassemble other components to be able to reach them, increasing the production downtime.
One of the main advantages offered by Split Spherical Roller Bearings is that they allow for quick and direct replacement without the need to disassemble other parts connected to the shaft. Thanks to this, it is possible to speed up its installation and replacement, significantly reducing operating costs.
Reduction of replacement time, especially when access to the bearing is complex.
Reduction of assembly time.
Production downtime reduction.
Interchangeable and compatible with standard solid spherical bearings, with and without adapter sleeve.
Simple mounting in split pillow block housings.
Modular design and construction that saves engineering and maintenance related costs.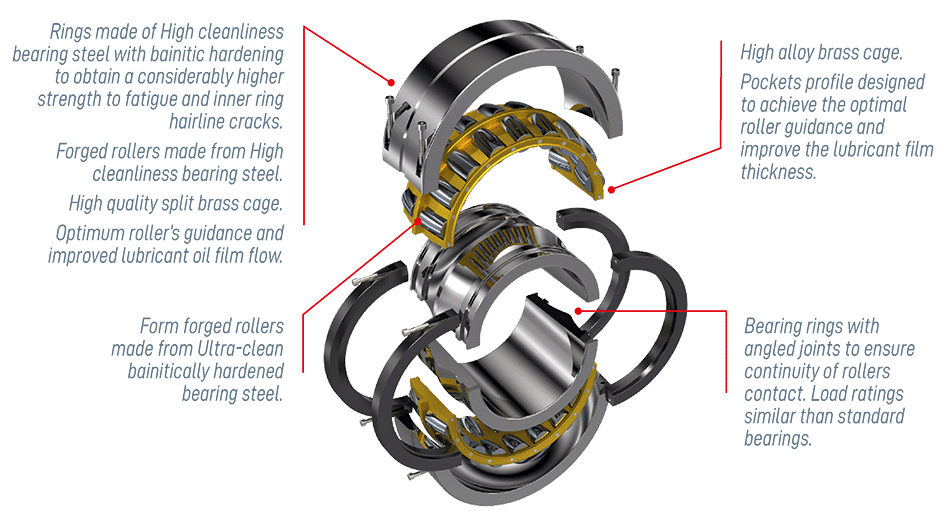 Simple and direct installation without the need for modifications.
Diameters from 100 mm to 1000 mm.
Standard construction measures and proportions.
Sealing technology with special connections for the access of oil or the necessary grease.
Different types of materials for the bearings (rollers, rings, and cages) depending on the different applications and requirements.
Most frequent applications
Conveyor systems, Mining Industry, Papermaking machinery, Processing plants, Belt drives, Support of drive pinions in mills and rotary kilns, Rolling mills, Propeller shafts, Ventilation units, Long shafts supported at different points, Crankshafts…
Other Split Spherical Roller Bearing solutions available upon request